Blinds vs Shutters: How to Choose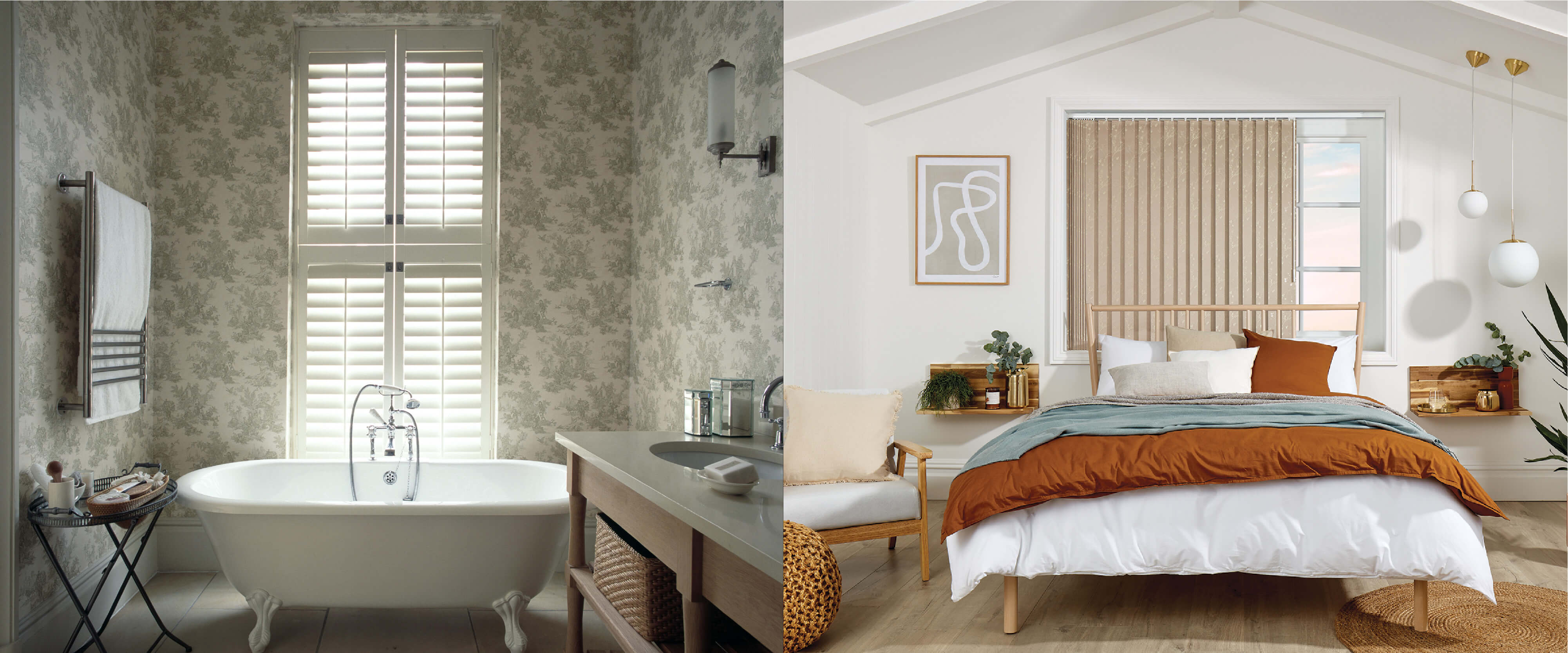 What's the difference between shutters and blinds?
The main and most obvious difference is structure. Shutters are fixed to the entire window to create a complete covering whereas blinds are fixed to the top of the window providing a partial covering. The difference in structure also affects the way light enters the room which creates a different experience inside the home. Shutters let in streams of light through the slats that can brighten or dim the light in a room whereas blinds let in panels of light depending on how high they are rolled up or open to the side. 
Operating
Shutters are similar to doors in the way that they can be swung, slid or folded open. Shutters are available in tiered sections which means you can have the top half open and the bottom half closed. Within the shutter panel are slats that can be tilted up or down to alter the direction and level of light by hand, using a tilt rod or using a remote control if the shutters are motorised. 
Read more about motorised shutters here
Blinds come in a variety of options that roll or fold up or down, glide from side to side and feature rotating slats that can be turned to change how much light enters the room. Blinds are operated by pulling a cord or a string but can also be motorised which is especially helpful in hard to reach places such as skylights and conservatory windows.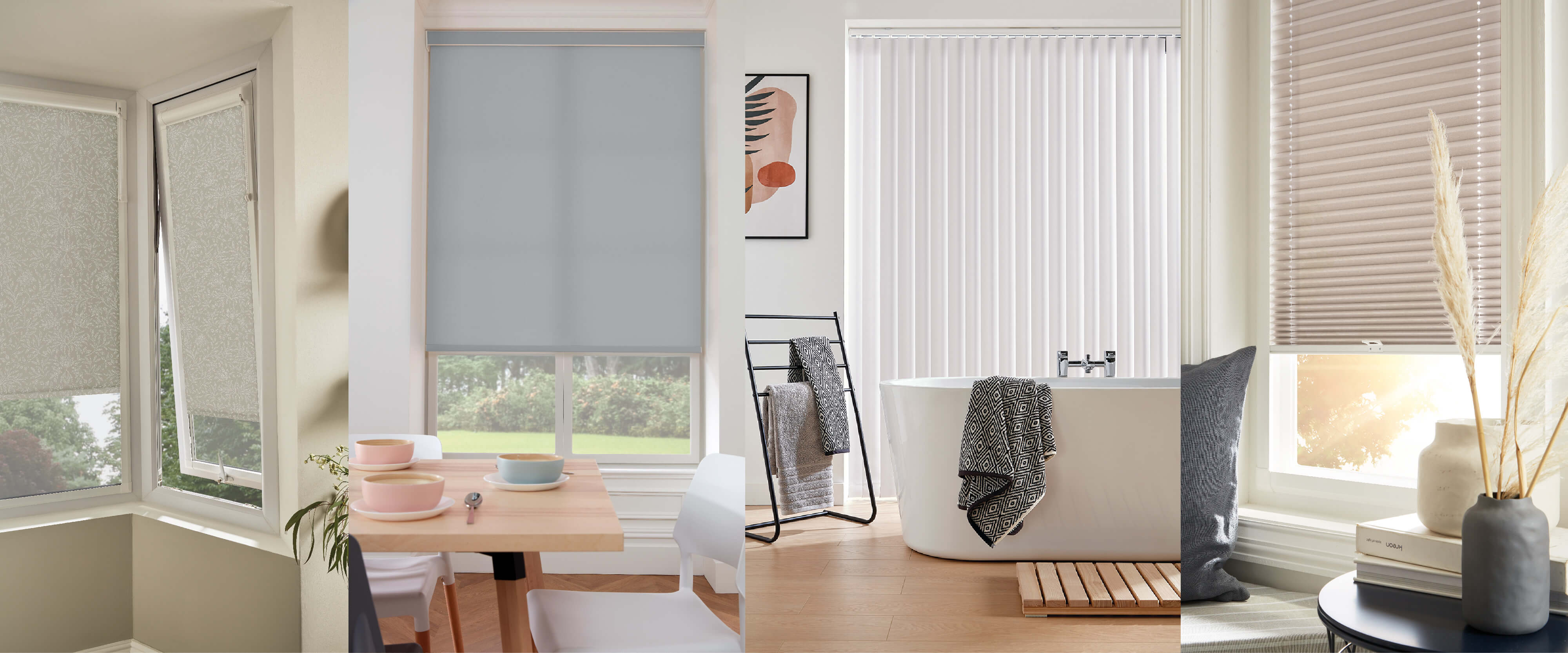 Styles
Shutters and blinds both come in a range of styles which can make choosing between the two difficult. Shutters add an internal and external feature to your home and have been known to add value to the property whereas blinds tie in with other fabrics and furnishings in the room making them easy to coordinate with the rest of your home.
Styles of shutters include Cafe Style, Full-Height, Tier-on-Tier, Bay Window, Shaped, Solid Panel, Track Shutters, Conservatory Shutters, French Door Shutters, Skylight Shutters, Wardrobe Door Shutters and Room Darkening Shutters. Each style has its own features and is designed for specific applications.
Learn more about how to choose the right shutter style here
Blinds also come in a variety of styles such as Roller, Pleated, Cellular, Panel, Vertical, Vision and Motorised. Some blinds are set within frames that attach to uPVC frames making them easier to install. This kind of blind is referred to as a Perfect Fit blind and is a great solution to skylights and angled windows where a normal blind wouldn't be suitable. 
Material & Durability
Shutters are made from a variety of materials depending on the range of the shutter, and the environment they'll be set within. Most economic shutters are made from MDF with a Polypropylene coating. As you go further up the price bracket shutters come in a range of hardwoods all varying in weights and finishes. For bathrooms, shutters are made entirely from abs plastic to withstand the damp environment whereas in other rooms in the house the combination of wood and plastic is more suitable. As shutters go they are very durable and as we have seen in previous installs within family homes, they can withstand being knocked about a bit.
Blinds also come in a cross-section of materials from wood to faux wood, man-made fabrics to PVC blinds. Fabrics also come in a mix of translucency from transparent to translucent to dim out or completely blackout. There is also some continuity between shutters and blinds as wood colours can be matched to create a cohesive colour scheme throughout the home. The durability of blinds is affected by a number of factors; fading with sun exposure, damage by small children, being blown about in the wind and potentially getting damaged.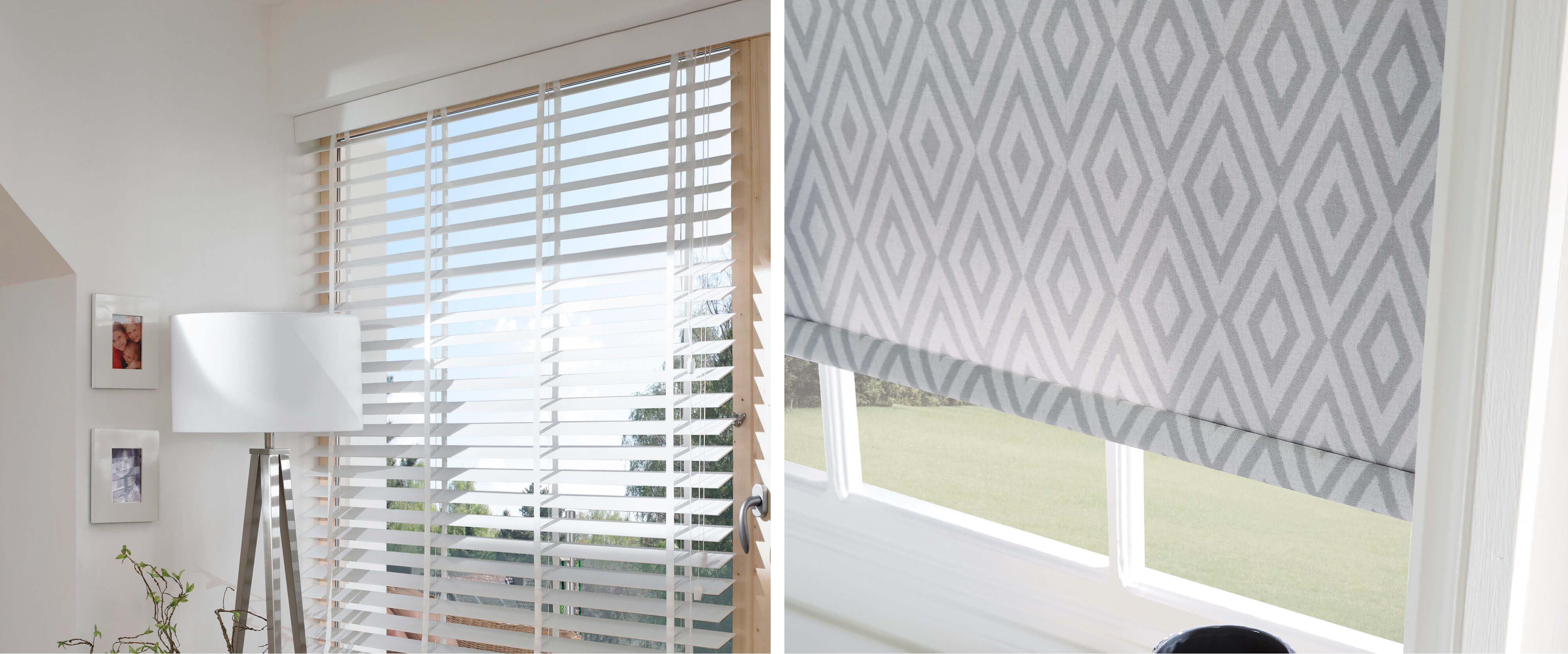 Maintenance
When making the choice between shutters or blinds it's wise to consider how you will care for them once they've been fitted. Fabric blinds do tend to fade with sun exposure although this can be avoided with high-quality fabrics. Shutters don't have this problem as they come with a protective coating that ensures they stay looking the same as the day they were fitted. This protective coating also means that dirt and grime won't stick as easily to shutters as it will to blinds, making blinds a little trickier to keep clean.  Both can be dusted or wiped down the same way you would dust other surfaces in your home.
Price
Shutters can be both cost-effective and costly depending on the materials used and the area covered whereas blinds are a more cost-effective choice but the price still depends on the size and style. It's worth noting that the price of blinds varies depending on the materials used and premium fabrics can hike up the cost. When it comes to comparing prices it's also worthwhile thinking about what kind of investment you are making. Although a blind may be cheaper, you may find yourself replacing it if it gets sun-damaged or broken. With that said a shutter might prove to be the better investment.